Helios products
Helios RE500 3-band parametric active equaliser

This equaliser is a Helios-licensed product that will be available soon from Audio Digital Technology (ADT) run by Jim Dowler, former Chief Engineer at Olympic Studios, London.
It is a three-band, Series 500 compatible equaliser with switchable Q.
If you have the appropriate rack, you can elect to use the 51X compatible connector to run the unit on ±24V instead of ±16V. The image below shows the additional edge connector in place at the bottom.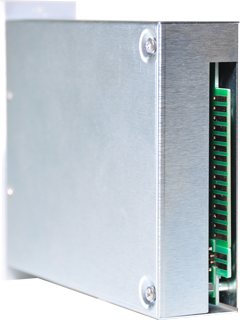 ---
Related products
ADT Olympic Mic Amp 65 – £650 + VAT

This is a pre-Helios design based on Dick's work at Olympic Studios.
This ADT Olympic Mic Amp 65 is a Series 500 compatible module that contains two microphone amplifiers, one using germanium transistors and the other silicon. The germanium design has its origins in the Olympic Studio 1 (1966-1978) console, whereas the silicon design derives from the Helios console in Olympic Studio 2 (1969 onwards). You can switch between germanium and silicon to suit your mix.
Mic transformer
The microphone transformer is an accurate clone of the Lustraphone M10 used in the early mixing consoles.
Peak LED
This is set to show the onset of soft clip on the germanium mic amp which has lower headroom than the silicon mic amp.
Fader
This control knob allows up to 10dB of gain with a class A amplifier which will drive the transformer into saturation if required.
HPF – High Pass Filter
A selection of five bass cut frequencies gives more control in rooms that exhibit low frequency problems. The filter slope is 12dB per octave.
Air
This toggle switch adds a HF (high-frequency) peak boost as found in the original Lustraphone transformer. This adds an open sound to certain instruments.
When the transformer is in normal mode it has flat frequency response way beyond 30kHz with none of the out-of-band artefacts due to winding capacitance.
Ge – germanium / silicon switch
This switches between the germanium and silicon mic amplifiers.
TX
This switches between a class A discrete balanced output or a custom made transformer – for that vintage sound!